Facebook Phone Number Search
Facebook Phone Number Search.
How to search Facebook by phone number.
Can I search by phone numbers on Facebook?
And, can other users search and find my phone number on Facebook?
Can I search Facebook by Phone Number?
A common question asked by Facebook users is, if other users can search Facebook by phone number, and thereby get access to your private phone number. Or, if you could search by phone numbers, and this way find your friends on Facebook.
Answer: Yes, it is still possible to search by phone number in Facebook. But only if you know that phone number, and you are included by the Search Audience settings of that user. On April 5. 2018, Facebook changed their policy, disabling the function that let users search all phone numbers in their database. If your Search Settings are set to "Friends Only", only your Facebook Friends will be able to find you by searching for your phone number.
If a user's Search Settings is set to "Everyone", then all Facebook users can search for that users profile by searching for a phone number.
Reverse Phone Number Look-Up.
You cannot reverse look-up a phone number, e.g search for your friends' phone number, if a user/friend has opted to not show their phone number publicly.
How you find your Facebook friends with Facebook Phone Number Search:
Log in to Facebook and click on the Facebook Search Bar.
Enter a phone number in the search bar. Click on the Search Icon or press enter.
The account linked to this phone number will appear in the search results, if you are in that users' Search Audience.
Click on the account profile to Add as Friend.
Your Facebook email address and mobile phone number each have a setting, which control who is able to look you up using that information.
To adjust these settings in Facebook:
Log into Facebook.
Click the Down Arrow at the top right of any page and choose "Settings".
Select Privacy, on the left. Find the Who can look me up? section, and you will see a setting for your email address and a setting for your phone number.
Use the dropdown menu next to the settings to select who can look you up using that information.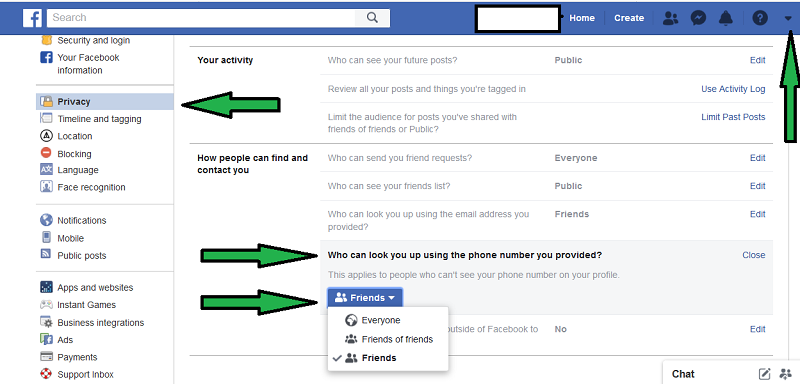 Facebook Phone Number Search Controversy.
In light of the Cambridge Analytical scandal, where the company Cambridge Analytica illegally gained access to the data of 87 million Facebook users, Facebook changed many of their privacy policies. However, the Facebook search by phone number option was not removed.
Facebook claimed, that "malicious actors have abused the features to scrape public profile information by submitting phone numbers or email addresses they already have through search and account recovery".
But Facebook is still not allowing users to opt completely out of the Search by Phone Number feature which lets people look them up using their phone number or email address.
This includes all users who only originally added their phone numbers to set up 2-factor authentication, and thus believed that this would only be used for security.
Users can actually specify, who they want to share the phone number or their email address with, either "Everyone," "Friends of Friends," or "Friends". This option is found under the Facebook Privacy settings. However, there is no way to opt out completely.
The function allows new users to upload their mobile phone contacts to Facebook to search for their friends or to message a phone number on the Messenger app.
How do you rate your experience with this company?