Feed Kroger ESS eSchedule Login.
Log in the Kroger ESS employee portal, check your Kroger Schedule online, and view your Kroger Paystubs. Everything you need to know about the Kroger Employee website.
What is the Kroger Express HR Portal?
The Kroger HR Express platform is the main employee portal for The Kroger Co. and associated companies. It is only accessible to active associates of the company, such as its employees. The service allows users to update personal details, access pay stubs and W-2 forms, set up direct deposit, and find other important company information.
Kroger ESS can be accessed from ess.kroger.com. Previously, the web address used to access the Kroger employee website was www.greatpeople.me, while a separate URL of feed.kroger.com was used to access work schedules. However, this Kroger Feed service has now moved to: https://sso.kroger.com/SecureWEB/kswlogin.fcc.
How Can I Access My Pay Stubs on Kroger Express HR?
To access your pay stubs from a remote location, such as your own home, you will need to log in to the Kroger ESS employee website. You can do so at: https://ess.kroger.com/SecureWEB/kswlogin.fcc.
For more information, please see our page on Kroger Express HR.
Kroger Feed Login – Access Your Kroger Work Schedule
In the past, Kroger employees and associates could access work schedules through the main Kroger schedule service, Kroger Feed, which was found at: feed.kroger.com. However, the service has since moved away from this address and the URL now re-directs to: https://sso.kroger.com/SecureWEB/kswlogin.fcc instead.
It is unclear how long the re-direction will be in place, so it is recommended that you update any bookmarks to the new URL and access the Kroger employee schedule service via that address instead.
The new Kroger employee schedule service is known as Kroger eSchedule and you will need to use your Enterprise User ID and password to gain access. Once you are in, you can view your upcoming work schedule via My Kroger Schedule. You will need to be an employee or an active associate of The Kroger Co. or one of the related companies.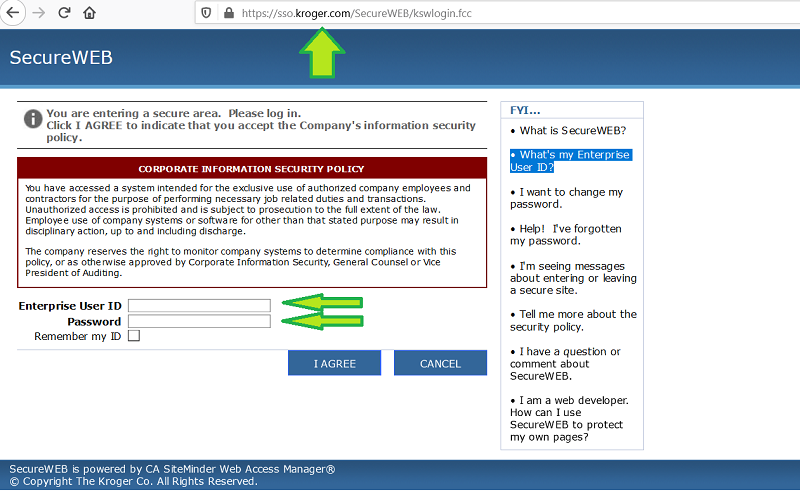 Kroger ESS – Common Kroger Employee Login Problems.
If you are trying to log in to the Kroger ESS platform and are experiencing difficulties, there are a number of known problems and fixes. Often, identifying the exact cause of your issues will be a process of elimination, so you may need to try some of the possible solutions and see whether any of those rectify the situation for you.
First, it is important to highlight that the system has a regular maintenance period between 3 am and 10 am ET on Wednesdays and 3 am and 8 am ET on every other day. If you are attempting to log in during these times and you are not having any luck, you will need to wait until the maintenance window closes and then try again.
You must also take care when entering your Enterprise User ID and password. Double check that you have not made a typing error in either. If you typically copy and paste your password, make sure you have not accidentally copied a space either before or after it, as this will count as a character. Your password is also case sensitive, so you should take care to use upper and lower case letters in the right place and you should make sure CAPS LOCK is off.
To access the service, you will need to be using a computer, smartphone, tablet or similar device, and a fast internet connection is recommended. It may also be worth making sure your web browser is up-to-date. Some people also encounter issues if they have certain plug-ins or ad blockers active, so you might want to try turning these off too.
If you are unsure whether or not the problem is with the service or with your own internet connection, the easiest way to check is to visit any other website in your browser. If the page loads, it is likely the issue is with the Kroger ESS employee website. Generally, when issues do arise outside of scheduled maintenance hours, they are fixed quickly.
You might want to try logging in using a different web browser, or a different device. Supported browsers include Firefox, Google Chrome, Internet Explorer, Microsoft Edge, Safari and Opera.
If you continue to experience problems, you can contact the HR team on 800-952-8889.
What Was GreatPeople.me and What Happened to It?
The GreatPeople.me service was formerly the main online employee platform for Kroger workers. It provided information about the company, along with various options for managing personal information. It was initially replaced by the Kroger Feed service and that then evolved into the Kroger SSO employee website.
Employees can still access all of the main features from the old GreatPeople.me service at:
https://sso.kroger.com/SecureWEB/kswlogin.fcc
How Can I Manage My Kroger Employee Benefits Online?
You can manage your employee benefits using the MyLifeAtKroger.com portal. This was once known as Your Kroger Benefits. As you will see when you visit the website, there are two different login processes, depending on whether you are a current employee, or a retiree, so you will need to select the right one.
The URL for current employees is:
https://secureweb.kroger.com/SecureWEB/kswloginext.fcc
If you are a retiree, the URL is:
https://auth.mercerbelong.com/Auth/Kroger/Account/ClientLogon?Target=https://www.mylifeatkroger.com/authpage
Spouses or domestic partners are also able to access the service via the same login page as retirees.
Benefits available to Kroger Company employees include:
Paid Sick Leave
Paid Holidays
401(k)
Store Discount
Life Insurance/Disability
Flex-Time / Flexible Schedule
Profit Sharing
Defined Benefit Pension Plan
Defined Contribution Pension Plan
How Do I Contact Kroger HR or the Support Team?
At various stages, you may need to get in touch with the human resources department, or the main contact centre. The good news is, there are a number of different contact methods available to you, so regardless of whether you want to pick up the phone, write a letter, or send an email, you have the ability to do so.
If you would like to write to the HR team directly, the postal address to use is:
The Kroger Co.
Attn: HR
1014 Vine Street
Cincinnati, Ohio 45202-1100
On the other hand, if you would like to call the HR team on the telephone, the number to use is 1-800-952-8889. When prompted, the keyword to use for this line is: Express HR.
The number for the Kroger Co. corporate switchboard is: (513) 762-4000.
Alternatively, if you would rather call the main call centre, you can do so on: 1-800-KRO-GERS (1-800-576-4377).
The call centre is open from Monday to Friday between 7 am and midnight EST.
On weekends, lines are open from 7 am until 9 pm EST.
Finally, if you would prefer to ask a question or communicate via email, the address to use is:
How do I obtain my EUID?
You will need to have your Employee User Name and password to retrieve your EUID.
For help, contact the Kroger Support Center at 1-800-952-8889, and say password at the voice prompt.
How the do I get my Kroger W-2?
Your w-2 form is usually mailed to your postal address on record.
For online W-2s, visit www.theworknumber.com and use 10575 as the employer number. Or, go to Kroger Express HR, and once you log in, click on the MyHRInfo logo in the top-right corner. The page will then open up a portal to all of your Kroger W-2's.
How do you rate your experience with this company?