Comments Off

on Kroger Express HR Paystub Login
Kroger Express HR.
Express HR is the name of Kroger's employee portal, found at Kroger intra-store workstations.
The Kroger Express HR portal can be used for accessing your Kroger paystubs, W-2 Forms, W-4 Forms, and to set up direct deposits.
Kroger Express HR Paystub Login.
The Kroger paystub portal login page can now be found online at https://ess.kroger.com/SecureWEB/kswlogin.fcc.
How Can I Access My Pay Stubs on Kroger HR Express?
To access your pay stubs from a remote location, such as your own home, you will need to log in to the Kroger ESS employee website. You can do so at: https://ess.kroger.com/SecureWEB/kswlogin.fcc
Once the page loads, you should be presented with the service's main login form. Here, you need to enter your Enterprise User ID, followed by your password, and then press 'Enter'. You may also need to select 'I Agree' on a security warning, which explains that the platform is solely intended for active associates of the Kroger Company.
After you have signed in, you should be able to access the information you need and this should mean you have access to your latest pay stub, as well as any other pay stubs issued over the course of the past two and a half years. If you are going to require older pay stubs, you will need to contact the corporate HR department instead.
Any new pay stubs issued to you will become available to view on Wednesdays.
Greatpeople.me.
The main access URL used to be at www.greatpeople.me, but this website has been phased out and now points visitors to https://sso.kroger.com/SecureWEB/kswlogin.fcc.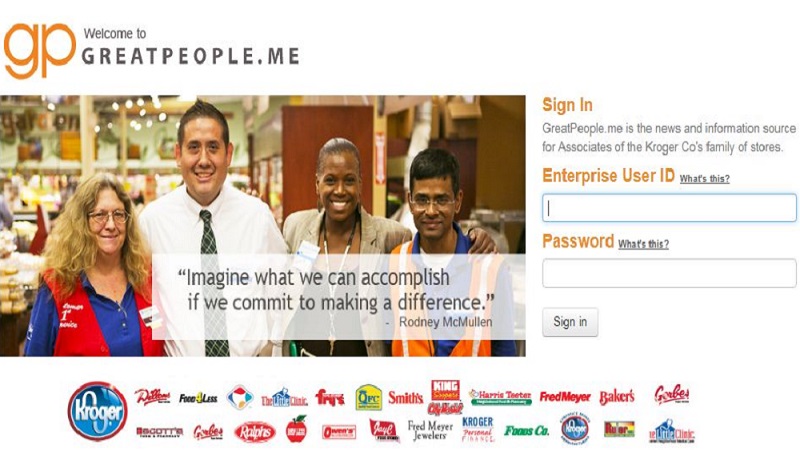 How do you rate your experience with this company?