LiteBlue Login – How to Sign in to Liteblue.USPS.gov.
Everything that you need to know about Lite Blue, the USPS staff portal:
How to sign in to LiteBlue.USPS.Gov, view your work schedule online, check your payslips with USPS ePayroll, and search for new job openings within the USPS corporate family.
About Liteblue.
LiteBlue is the name of United States Postal Service's (USPS) official website for current employees.
If you are a new employee, you will need to register a LiteBlue SSP Password to use the system.
Registering for LiteBlue.USPS.Gov.
You must have a "USPS Employee ID" and a "USPS Self Service Password" before you sign in to the LiteBlue Portal.
New US Postal employees must register for a "USPS Self Service Password (SSP)". Visit this link to register. If you wish to change your password, or if you have forgotten it, this is also the page to start at.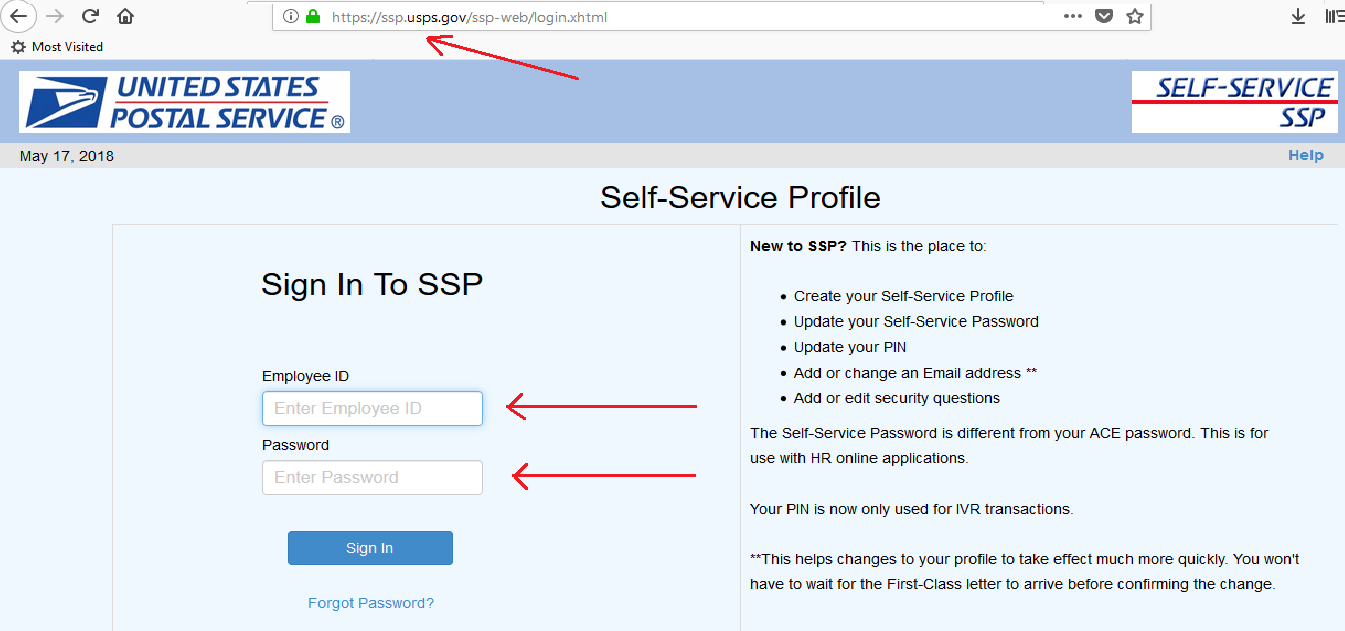 New USPS employees will receive a password in a letter, but this password is temporary.
You must first change the temporary password to a permanent password. The temporary password should arrive in the post after 7-10 days.
The USPS Self Service Password is the same password used for all USPS employee websites and services, including LiteBlue.Usps.gov, eIdeas, eOPF, eReassign and PostalEASE.
To register for a "USPS Self Service Password", you will also need to enter your USPS ID for employees. The USPS Employee ID number can easily be found at the very top of your pay slip. It will be an 8-digit number.
LiteBlue Login.
How do I log in to USPS Liteblue?
If you have already changed and acquired a new "USPS Self Service Password", you can go ahead an log in to the Liteblue employee portal itself.
Go to https://liteblue.usps.gov/ and the page will automatically re-direct you to the login page.
Enter your USPS Employee ID number in the correct field.
Enter your USPS Self Service Password in the correct field.
Click on "Log On"
That's it, you wll signed in.
If you have forgotten your password, you can reset your password here.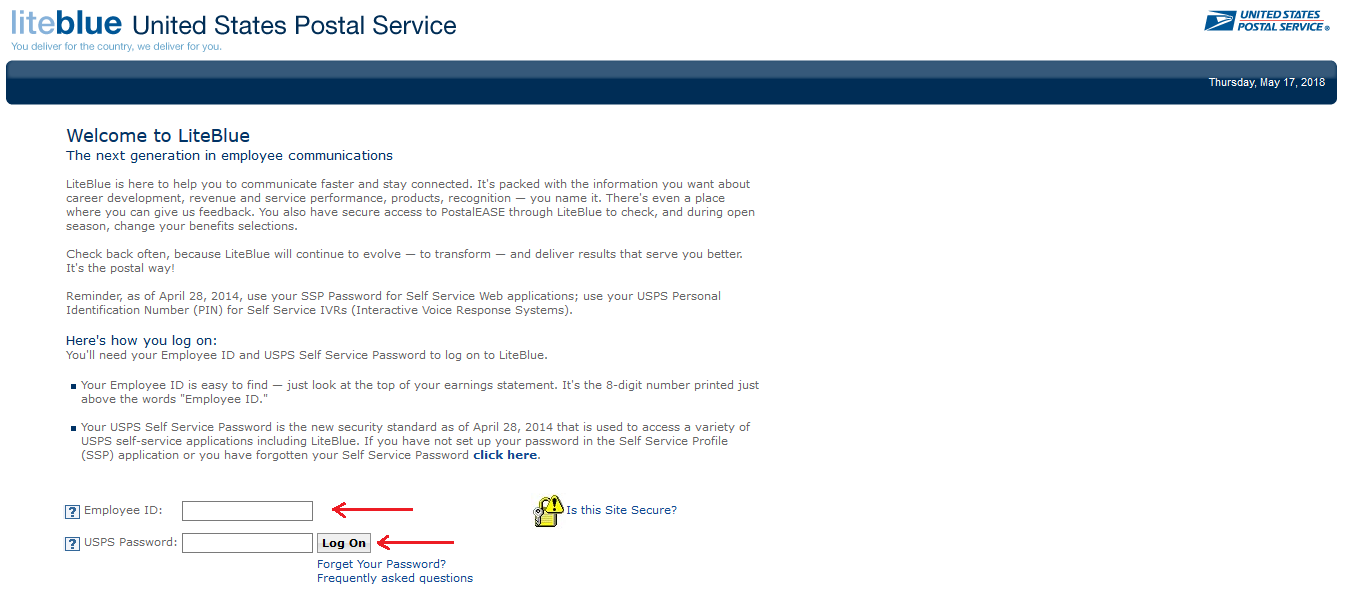 LiteBlue Login Problems. Why Can't I Log In?
If you are a former USPS employee, you will no longer be able to log in to the LiteBlue system. If you are a new USPS employee, you will have to register for a USPS Self Service Password first.
If you still can't log in, try:
Make sure that your CAPS LOCK key is OFF on your keyboard.
Make sure that your are entering the correct password. Pay attention to upper and lower cases, and make sure there are no spaces at the beginning or end of the entered password.
Your LiteBlue Employee ID number (EIN) should be 8 digits only. Make sure that you have not included a space after the digits. If your Employee ID number is only 7 numbers, try to add a "0" in front of it.
Try logging in from another browser, i.e Chrome, Mozilla or Internet Explorer.
Try logging in in "Incognito Mode"/ "Private Browsing Mode", or clear your browser cache and cookies.
Try logging in from another device, such as a mobile phone or another home computer.
LiteBlue Phone Numbers – How to Contact LiteBlue.
You can email the cyper department at [email protected], if your Liteblue account has been compromised. You can also reach them by calling 1-866-877-7247.
For other problems, like login problems or forgotten passwords, contact the HR Shared Service Center on phone number 1-877-477-3273.
The LiteBlue HRSSC normal operating hours are Monday through Friday, 7:00 am – 8:30pm EST.
LiteBlue have a dedicated Human Resources page, found here.
On the Liteblue HR page you can read more about:
Changing My Address
Applying for a new USPS Job and information on Careers.
EAP
TSP Return Rates
Family Leave
Accessing ePayroll
Accessing eOPF
USPS Employee Benefits
USPS Employee Rights
USPS Retirement Benefits
Health & Wellness
USPS Workforce Connection
Sick Leave.
Liteblue USPS Apps: ePayroll, eRetire, eJob Bidding and more.
If you are still experiencing problems, or have feedback, state your issue below in the comment section.
LiteBlue.USPS.Gov – 2019-2020.
How do you rate your experience with this company?