Macys Insite Login – MyInsite.
Log in to your Macy's Insite employee account in seconds.
Learn to use Macys Insite and www.employeeconnection.net to view your work schedule, payslips and benefits, as a Macy's or Bloomingdale's employee.
How do I Log In to my Macys Insite Account?
The official My Insite login page can be found here.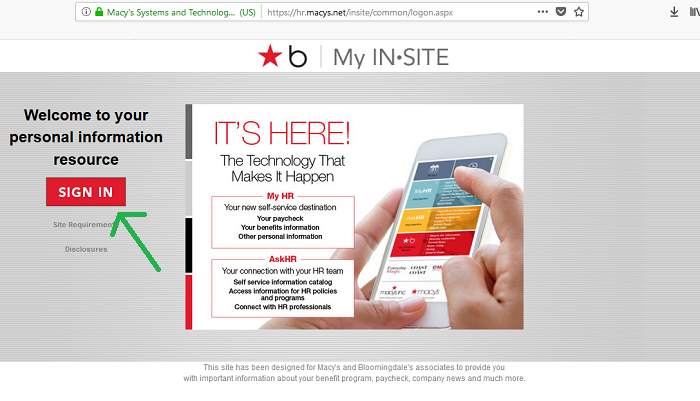 Once on the My Insite website, click on the red "Sign In" tab and enter your login credentials on the next page.
If the page won't open, the hr.macys.net website might be down for maintenance. Try again later.
Be aware, that Macy's blocks access for visitors from outside the USA. So, if you are on holiday overseas, you won't be able to sign in to your Macy's Insite account, unless you use a proxy.
On the Login screen, enter your My Insite Username, which is your 8 digit Employee ID number, and your Network Password, which is the password you set up, when you first registered for a password with the Macy's Password Manager.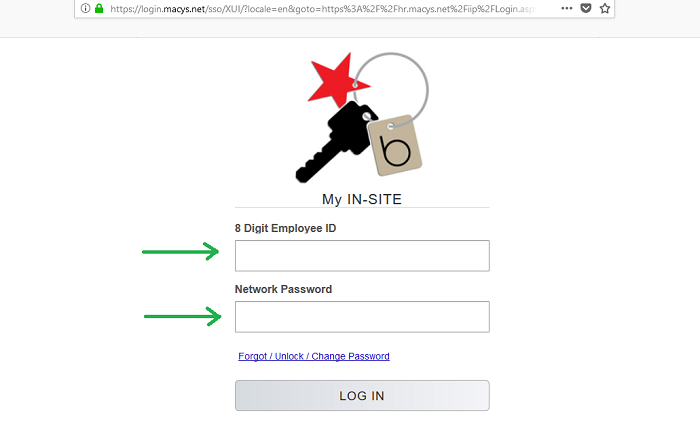 I Cannot Log in to Macy's Insite. What is the problem?
If you cannot log in, it could be because:
You are a former employee and your account has been locked.
You are trying to access the Macy's Insite website from outside the US.
The website is down for maintenance or is too "busy".
If you a current employee and you are denied access, try:
Logging in from another mobile phone or laptop.
Open another browser, e.g Chrome , Mozilla or Internet Explorer and try again.
Try logging in via the "Incognito Mode" or "Private Browsing Mode" in your internet browser.
Delete all cookies and refresh the cache in your browser, and try again.
Check that the CAPS LOCK button is OFF, on your keyboard. Your username and password are case sensitive.
Macys Insite Registration.
To register a password for your new employee account, do the following:
Go to www.employeeconnection.net.
Click on 'My Insite'.
Click on 'Sign In'.
Click on the "forgot/unlock/change password option.
You are now on the Password Manager screen. The direct link to the Password Manager is https://pwr.macys.net/. Fill in your Employee Id and the last four numbers of your social security number.
Click the CAPTHA box and follow the instructions. This will unlock your temporary Macy's Insite employee password.
Employeeconnection.net.
What is the difference between the Macy's My Insite website and the associate website at Employeeconnection.net?
Basically, www.employeeconnection.net is an umbrella website for Macy's and Bloomingdale's employees. It provides company news and easy download access to Form W-4 and State Tax Withholding Forms.
The Macy's My Insite website (found at www.hr.macys.net/insite), however, gives you direct access to your private paycheck information, work schedules, benefits and more. You will need to log in to the Macy's Insite website to use it.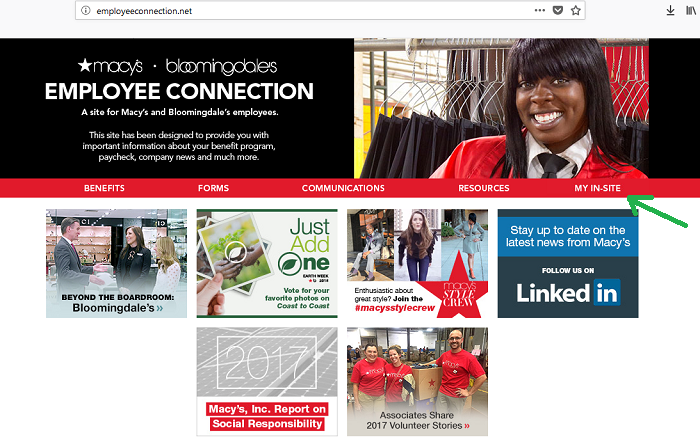 If you are experiencing problems with the Macys Insite website, then share your issue below.
How do you rate your experience with this company?