WalmartOne Login – One.Walmart.com
WalmartOne Login.
WalmartOne is Walmart's very own employee website, where you, as an Walmart Associate, can log in and check your Walmart schedule, past payslips, benefits plans, as well as check for new job offerings within the company.
WalmartOne war briefly renamed as Onewire Walmart, until they settled on the new official name: OneWalmart.
WalmartOne Wire Associate Login.
The simplest way to log in to is the open your internet browser on your home computer and navigate to www.walmartone.com.
On the homepage click on the blue "Sign In" button in the top right hand side of the screen. This will take you to the official WalmartOne login page, which will look like this: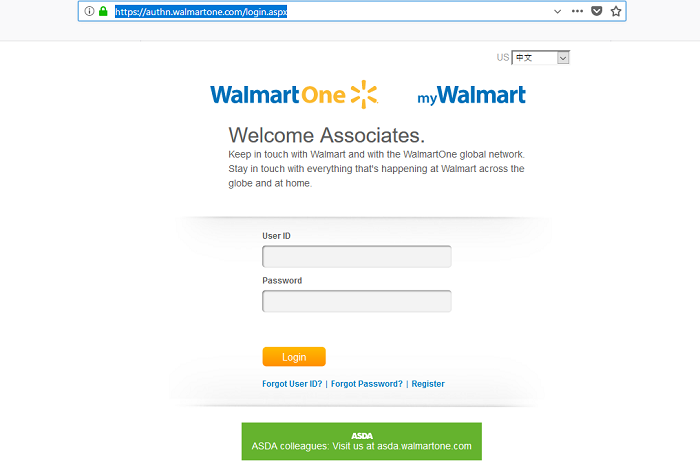 Once on the login page enter your Walmart User ID and WalmartOne password.
The click on "Login".
Onewire Walmart – The New Walmart Associate Login Page.
As per 2019, WalmartOne and Walmart Wire have become one platform. Though, the above login page will still work for the foreseeable future, Walmart are genly moving associate to the new combined portal, found at https://One.Walmart.com.
The new portal has was renamed as Onewire Walmart, but is now branded as Onewalmart, and to login to the website, associates must sign up for 2-Factor-Authorization at an in-store Walmart computer first.
Several login pages exists for the new Onewalmart Portal, including the original https://www.walmartone.com, https://one.walmart.com and Onewalmartwire.com.
One the new combine Walmart Wire and Walmartone portal at https://one.walmart.com/, you will need to locate the sign in page first: Open https://one.walmart.com/ in your browser and click on the yellow Walmart Spark logi in the top left hand corner to load the login page.
WalmartOne WM1 App.
Yes, if you prefer logging in from an app on your mobile phone, then go to Google Play or the iTunes store and search for "WM1".
Locate the WalmartOne app, download it and open it. You will then be able to log with your WalmartOne login credentials.
WalmartOne Schedule.
How do I check my Walmart work scedule online?
Through WalmartOne.com:
Log in to www.walmartone.com, go to the menu, select "Schedule," then select "Show Weekly Schedule."
Via WalmartOne App:
First you have to download the Walmart One app (WM1) from your play store, then open the app and click on "Work". You can now view your schedule.
Walmart has also recently introduced a new app for Walmart employees to manage their shifts and schedules, aptly named "My Walmart Schedule". However, reviews for the new app are horrible, so you are probably better off with sticking to the WM1 app.
WalmartOne Login Problems.
I can't log in to WalmartOne from home. What could be the problem?
Please be aware that you must register for an WalmartOne account first, before you can log in for the first time.
Go here, if you have not already registered a new Walmartone account.
You will need to enter:
Your Walmart Identification Number (WIN)
Birthday
Date you were hired
Email Address
Your Walmart WIN number is the number that was assigned to you when you were hired. Ask your supervisor or visit the Walmart Wire to find your WIN number. Go to "Online Schedule" on the Walmart Wire to see your WIN number.
If you already registered, and you cannot log in, try:
Open a different browser, e.i Mozilla, Chrome and Internet Explorer etc and try logging in again.
Clear your browser cache and cookies.
Makes sure the CAPS LOCK button is OFF on your keynoard.
Try to log in from another device, mobile phone, ipad or computer.
Log in through the "WM1" App or the "My Walmart Schedule" App.
I Can Log In to WalmartOne at Work (Walmart Wire), but not at Home.
Please note, that the in-store Walmart Wire system is different from the portal, that you access via www.WalmartOne.com at home.
You cannot use the same username and password that you use for the WIRE, for logging in at Walmartone.com, unless you have set it up that way.
WalmartOne Contacts.
How Can I Contact the WalmartOne HR Department?
The phone number for Walmart Associates to call for WalmartOne assistance is 1-800-421-1362.
The Walmart headquarters (corporate office) can be reached on the phone number: 1-800-925-6278.
The Walmart "Call in Sick"/"Report a Tardy" phone number is:  1-800-775-5944.
Still having problems? State your issue below, in the comment section.
How do you rate your experience with this company?