Mlifeinsider.
Login to your MGM Mlifeinsider.com account to view your work schedule, your payslips, book discounted hotel rooms, and more.
Login to Mlife Rewards to claim and use your Mlife Rewards Points.
What is MLifeInsider?
Founded in 1986, MGM Resorts International is a global hospitality company, based in Las Vegas, Nevada, which operates a number of hotels, resorts and casinos. These include a large number of properties on the Las Vegas strip, as well as hotels and casinos throughout the United States and internationally.
Mlifeinsider, meanwhile, is the internal employee web platform, where the company's workers can log in and gain access to the MGM intranet, important business information and various employee benefits. It is connected to the M Life rewards scheme and can be accessed remotely by full-time employees.
What Can I Use Mlifeinsider For?
Mlifeinsider is available to current MGM Resorts employees only and so cannot be used by former employees or the general public. The platform can be used to access important work resources, such as information about pay and work benefits, as well as job openings at other properties owned or operated by MGM Resorts.
In addition, Mlifeinsider provides employees with insider room rates, allowing them to book discounted rooms at MGM properties. These insider rates can also be shared with friends and family in some circumstances.
Mlifeinsider Login
How Do I Log In to My Mlifeinsider Account?
First, make sure you are on the official M Life Insider login page. The login page can be found at www.mgmresorts.okta.com. Visiting www.MlifeInsider.com or www.MyMGM.com will also get you to this page, as MlifeInsider.com re-directs to www.mgmresorts.okta.com.
To log in to Mlifeinsider, you need to have an Employee ID and password. These are obtained from local human resources departments, so if you are unsure of your login credentials, or if you are a new employee and have not yet received them, you should contact the HR department at your specific workplace.
Once you have your login credentials, you can sign in by going to Mlifeinsider.com and entering your Employee ID and password in the fields provided.
Then, simply click on the 'Sign In' button underneath.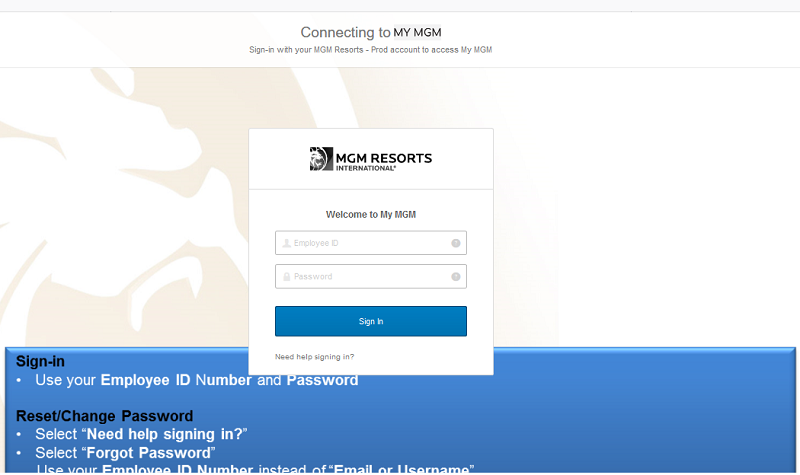 Employees at MGM Macau has a separate landing page found at:
www.mlifeinsider.mgmmacau.com/hr/Pages/Landing.aspx
MlifeInsider Login Problems.
I Cannot Log In to My Mlifeinsider Account. What Could the Issue Be?
From time to time, MGM Resorts employees may run into difficulties attempting to log in to their Mlifeinsider account. The first thing to check is that you have definitely entered your credentials correctly. You should pay particular attention to any potential typing errors and keep in mind that your password is case sensitive.
If your login credentials are definitely correct, you could try clearing your cookies and browser data before trying again. Failing that, try using a different web browser, or a different device entirely. If you are still unable to gain access, you may need to reset your password, which can be done following the instructions below.
I Have Forgotten My Mlifeinsider Password.
How Do I Reset It?
Mlifeinsider has a built-in password reset function, meaning you will not be permanently locked out of your account, even if you forget your password. To reset your password, visit Mlifeinsider.com and click on the link below the sign in form, which is labelled 'Need Help Signing In?', then choose 'Forgot Password?'
On the next screen, you will need to enter your Employee ID. Then, select either 'Reset via SMS' or 'Reset via Email'. Instructions outlining how to reset your password will then be sent to either the phone or email address you have associated with your account. Follow the prompts included to complete the process.
MLifeInsider.com – Contact
How Can I Contact Mlifeinsider By Phone or Email?
Should you need to contact Mlifeinsider for any reason, you can do so using the following information.
Phone Number: 855-286-0151
Alternatively, if you would prefer to contact the support team via email, you can do so by going to Mlifeinsider.com. From there, click on 'Need Help Signing In?', followed by 'Help'. Under the 'More Help' heading on the right-hand side, click 'Send Feedback' and follow the instructions to send a message.
Mlife Rewards Login.
Mlife Rewards is the MGM Rewards portal, through which Mlife members can get exclusive access to events, benefits, and various rewards  at M life Rewards destinations all over the U.S.
You will earn Credits for almost all your spend dollars. Mlife Moments, the events part of M Life Rewards, is reserved for Mlife Rewards members only. If you are still not yet a Mlife Rewards member, you can sign up, and sign in at this page.
Immediate family members of MGM employees and individuals in the same household as MGM employees can sign up for Mlife Rewards, but are subject to certain restrictions involving wagering and promotions.
| | |
| --- | --- |
| Mlife Rewards Tier Credits Required | |
Tier Credits

up to 24,999

25,000

75,000

200,000

By Invitation Only

Access
Dedicated Reservation Lines

yes

yes

yes

yes

yes

Book Personalized Offers on mlife.com

yes

yes

yes

yes

yes

Access to Mlife Moments

yes

yes

yes

yes

yes

Exclusive Access to Mobile Check-In via MGM Resorts Mobile App

yes

yes

yes

yes

yes

Access to Benefits and Offers from Mlife Preferred Partners

yes

yes

yes

yes

yes

Annual Complimentary Cruise on Royal Caribbean or Celebrity Cruises

no

no

no

yes

yes

Gaming
Earn Express Comps For Slots Play and Redeem at all Mlife Rewards Destinations

yes

yes

yes

yes

yes

Earn Points For Playing Slots and Convert points to FREEPLAY or Express Comps

yes

yes

yes

yes

yes

Earn Holiday Gift Shop Points For Slots Play in Las Vegas

yes

yes

yes

yes

yes

Extended Expiration For Points/Express Comps

no

yes

yes

yes

yes

Invitations to Members-Only Tournaments and Events

no

yes

yes

yes

yes

Bonus on Points Earned Slots Play at Mlife Rewards Destinations

no

10%

20%

30%

40%

Bonus on Express Comps Earned at Mlife Rewards Destinations

no

10%

20%

30%

40%

Increased Express Comps Earning Limit

no

no

no

no

yes

Hotels
Discounts on Hotel Rooms

yes

yes

yes

yes

yes

Priority Hotel Check-in Line at Front Desk

no

no

yes

yes

yes

Room Upgrade (excludes suites)

no

no

yes

yes

yes

Priority Access to Pool Cabana, Spa and Salon

no

no

no

yes

yes

Platinum Experience at Check-in at Las Vegas Resorts

no

no

no

yes

yes

VIP Lounge Check-in

no

no

no

no

yes

Guaranteed Advance Hotel Reservations

no

no

no

no

yes

Shopping
Exclusive M life Rewards Member Discounts at Participating Retail Shops (exclusions apply)

5%

10%

10%

15%

15%

Dining
Dedicated Line at the Buffet

no

yes

yes

yes

yes

Dedicated Line at Participating Restaurants

no

no

yes

yes

yes

Fine Dining Priority Reservations

no

no

yes

yes

yes

Guaranteed Advance Restaurant Reservations

no

no

no

no

yes

Entertainment
Pre-Sale Ticket Access to Events, Concerts, Fights

yes

yes

yes

yes

yes

Discounts for Shows at M life Rewards Destinations

yes

yes

yes

yes

yes

VIP Line Access to Nightclubs for You plus aGuest in Las Vegas

no

no

yes

yes

yes

Guaranteed Show Reservations

no

no

no

no

yes

Transportation
Avis Rental Car Discount

yes

yes

yes

yes

yes

Complimentary Self-Parking

no

yes

yes

yes

yes

Complimentary Valet Parking

no

no

yes

yes

yes

Priority Access for Valet & Taxi Service

no

no

no

yes

yes

Complimentary Limousine to and from Nearest Airport with a Hotel Stay

no

no

no

no

yes
–Mlifeinsider–