402-935-7733: Is This Number Legit or Scam?
402 935 7733 Phone Number.
At times, when you check your bank or credit card statement, you may see a phone number instead of the name of a company, or the name of an individual you do business with. This can happen for a range of different reasons and a variety of different phone numbers may appear, but one common example is 402-935-7733 (or 4029357733).
In this article, we will provide valuable information about what this phone number is, what it means if you see it on a credit card statement or bank statement, and whether or not you need to worry about fraud.
Is 402-935-7733 a Legitimate Number?
When checking your bank or credit card statements, you may encounter the number 402-935-7733 and wonder what it refers to. This can then lead to understandable questions about whether or not this is a legitimate phone number, which is linked to a genuine transaction, or whether it is an example of a scam that you need to report.
The main thing to note here is the fact that 402-935-7733 is, in fact, a legitimate phone number. Furthermore, it is associated with PayPal and so is seen quite regularly. In most cases, when it does appear on your bank or credit card statement, it will be displayed alongside the word "PayPal" – although this may not always be the case.
With this in mind, generally, the presence of this number on a bank statement is not a cause for concern. Certainly, if you are aware of a recent PayPal transaction you have made, this is the most likely explanation. The number could also appear if you make a purchase from an online store or merchant that uses PayPal to process payments.
Nevertheless, while the number itself is perfectly legitimate, there are some instances where the number appearing may be indicative of fraud, and these instances will be explained in greater detail later in this article.
Information About the 402-935-7733 Phone Number.
The phone number 402-935-7733 itself is associated with PayPal's customer service team. However, in addition to serving as a customer service line for callers, the number also appears on bank statements and credit card statements when a transaction has been made via PayPal and a credit card or bank account is used to fund the transaction.
When you create a PayPal account, you are required to provide a secondary funding source, which will be either a credit card, debit card or your bank account. This source is then used for any transactions that are made via PayPal and which exceed the balance that is currently contained within your PayPal account.
Essentially, this means any PayPal transaction that uses a funding source other than your PayPal balance could result in this phone number appearing on your statement and this is why it is usually nothing to worry about. However, there are exceptions to this and the phone number alone is not always proof of a legitimate transaction.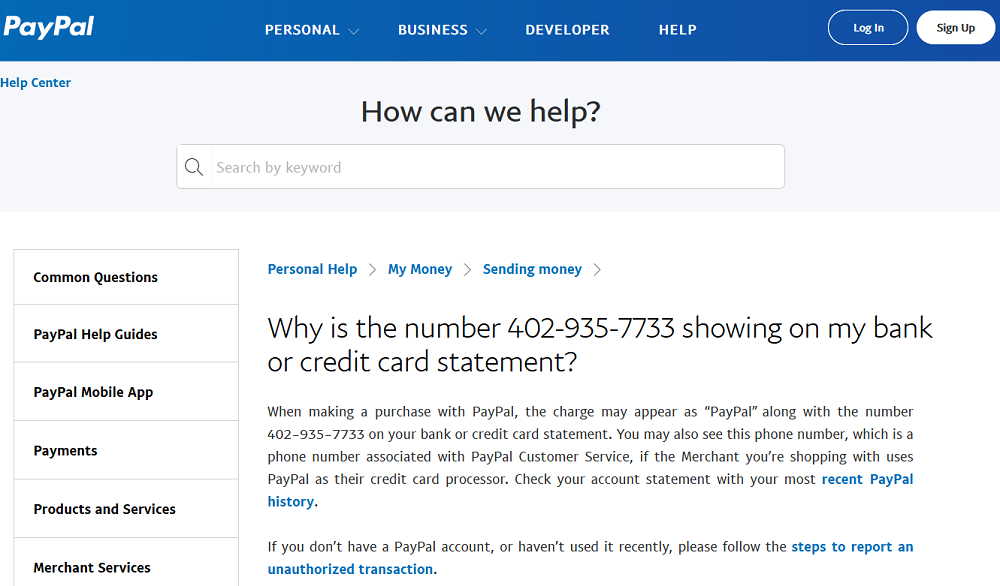 When Could the 402-935-7733 Number Indicate Fraud?
Despite 402-935-7733 being a legitimate phone number that is associated with PayPal transactions and PayPal customer service, it is important to understand that seeing this number is not, in and of itself, evidence of a real transaction.
In fact, increasingly, there are reports that fraudsters are intentionally using the number to make fraudulent transactions appear more genuine. This can be very effective too, because when you carry out a Google search for the number, you will see search results indicating that it is a legitimate number, linked to PayPal.
Fraudsters utilising this number is a relatively unsophisticated way to make transactions seem as if they are legitimate. It can be especially effective when used against people who regularly make PayPal transactions and who may not always keep up-to-date with every outgoing from their credit card or bank account.
For this reason, it is essential that you carefully monitor all PayPal activity and pay attention to your statements. If you see this number and you have not made a PayPal transaction, it could be evidence of a scam or some other type of fraud. Of course, this is not a guarantee either and you need to adopt a more comprehensive approach.
I Do Not Have a PayPal Account: Is it Fraud?
Some people encounter this phone number on their bank or credit card statement, even though they do not have an active PayPal account. If this happens to you, it may set off alarm bells, but it is crucial to understand that the appearance of this number on your statement can still be linked to a legitimate transaction.
If you make a purchase from a retailer or online merchant that utilises PayPal to process payments, PayPal is technically the billing company and you may see the phone number on your bank or credit card statement. This also applies if you do have a PayPal account, but you are certain you have not used it recently.
This is yet another reason why it is so important to always keep track of your payments, including the amounts, as this can make it much easier to separate any genuine payments from cases of fraud.
Am I the Victim of a 402-935-7733 Scam?
As previously stated, one problem with the 402-935-7733 phone number appearing on bank and credit card statements so frequently is the fact that scammers and others with malicious intent have become aware of this. These individuals may use the number to disguise their scam attempts and this can be difficult to detect.
If you have suspicions about a transaction on your statement, it is vital that you clarify whether or not it is a scam before making a claim. If you file a claim for fraud and attempt to reverse a payment that ends up being genuine, you could end up causing completely unnecessary harm and stress to an honest merchant.
In the worst cases, this could lead to a merchant reporting you to PayPal for making a spurious claim against them. PayPal will then investigate the matter and could opt to penalise you if they feel your claim was unfair and caused the merchant harm. This is clearly a situation that is best avoided and so it is absolutely imperative that you make sure you are certain that fraud has been committed before you take any action.
The single best way to know whether or not you have been the victim of a scam is to keep a record of your spending. This means monitoring regular outgoings – especially those from your PayPal account – but also making sure you remain aware of any time you make an online purchase, or subscribe to a new online service. If at all possible, keep hold of any receipts for online purchases that are emailed to you and use these for future reference.
If you have access to receipts and other records, knowing whether you have been scammed is actually relatively easy, albeit time consuming, because all you will need to do is cross-reference the amount you have been charged with any recent purchases, bills or other outgoings. If the amount matches a genuine transaction, you can rest easy.
On the other hand, if you do not have access to these records, you will need to think carefully about things. Have you made any online purchases recently? Does the amount seem like it would match any of those purchases? Do you have regular bills that are paid via PayPal? Have you subscribed for any new services recently?
A common issue that some people run into involves subscribing to online services which offer free trials and then forgetting to cancel before the trial expires. If you opted to use PayPal as your payment method for a service like this, you may see the phone number in question on your bank statement and this could still be a valid charge.
Another important thing to consider is whether you currently have funds in your PayPal account. If you do, this would indicate that the charge may be the result of a scam, because PayPal should automatically use your existing balance first, before turning to your alternative payment method.
So, for example, if you have a recent charge for a small amount of money, but your PayPal balance was more than sufficient to cover it, it would suggest the charge was not really from PayPal. However, again, this is not completely fool-proof as a method of detecting fraud, because the charge could still be from a merchant who uses PayPal to process payments. Before making a claim, you will need to rule this possibility out too.
I Have Been Scammed – How Do I Get My Money Back?
Once you are certain that the number appearing on your statement is actually a scam, a fraudulently acquired payment or some sort of error, you need to take action to get your money back. The precise route you go here may depend on the nature of the transaction itself and whether you believe it to be an intentional scam or not.
The most direct route would be to contact your bank and report the transaction. This is applicable regardless of whether the money has been taken from your credit card or from your bank account. The bank will then investigate the matter and once they determine that it is a case of fraud, your money will be returned to you.
It is important to re-iterate that you need to be fairly certain before making your report. Some banks may take fairly drastic action, such as freezing your credit card, so you do not want to go through this process only to find that you have actually reported a perfectly legitimate transaction, which you consented to.
The alternative option is to file a claim through PayPal and this can be done from within your PayPal account. This will open a dispute with a seller and PayPal will then have the power to investigate the matter and insist that your money is returned to you. Again, this is assuming what you report to them is accurate.
Once you have signed into your account, you will need to go to the 'Resolution Centre' section of the website. Under 'Report a Problem', select the option labelled 'Dispute a Transaction'. You will then need to find the transaction in question and follow the instructions provided to make a claim against the seller.
The transaction must have taken place within the past 180 days and the seller will have 20 days from the time of the claim to act. Ultimately, a decision will be made and if the matter is not resolved, you can escalate the claim further by going to the 'Resolution Centre', finding your claim and clicking 'Escalate to PayPal'. At this stage, PayPal will investigate and you will also have the opportunity to provide evidence that supports your claim against the seller.
Generally speaking, however, the PayPal process is better suited to instances where you made a purchase and either did not receive the item or received something which did not match the original item description. When dealing with more straight-forward case of fraud or online scams, it is usually better to report the matter to your bank directly.
Final Thoughts.
The number 402-935-7733 is commonly seen on bank and credit card statements and is associated with PayPal, meaning it is a perfectly legitimate number. Therefore, if you see this number on your statement, it will most likely be linked to a payment you made via PayPal, or to a merchant that uses PayPal for payment processing.
With that being said, the number has become well-known and this does mean some fraudsters have started using it to make their scams appear more legitimate or authentic. This makes it essential that you keep track of all of your regular bills, subscriptions and online purchases, as well as the balance in your PayPal account. This will then enable you to identify scams more easily and take the appropriate action to get your money back.
How do you rate your experience with this company?