Limited Brands Aces ETM.
Limited Brands ACES ETM login, account registration and password help for L Brands associates.
ACES ETM is the employee web-portal for employees at Victoria's Secret, Bath & Body Works, Pink, Henri Bendel and La Senza. All brands are part of the L Brands Inc corporation, formerly known as Limited Brands Inc.
Why Should I use ACES ETM?
With Aces ETM, associates can view payslips, paid taxes, employee benefits and check their work schedule from a home computer or a mobile phone.
ACES ETM Login – How to log in to the ACES ETM Website.
New employees might find it a little confusing, but there are actually two working entry-websites, that will log you in to your employee account: https://hraccess.lb.com and https://aces.limitedbrands.com.
You will need your L Brands Network ID (Username) and associated password to log in to the portal.
Management can access the ACES Scheduling portal here.
Employee ID:
Your ACES ETM Employee User ID is the Limited Brands ID number, which consists of 6 or 7 numbers without the zeros at the front. Look at your payslip to find it, or ask your manager.
Password:
The ACES ETM password will be the same password that you created when you joined Limited Brands. If you have still not created your password, or forgot your password, you should contact Stores Technology Services (STS) at the phone number 1-877-415-7911.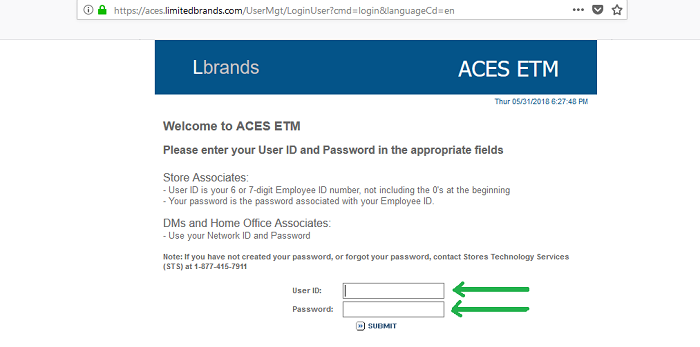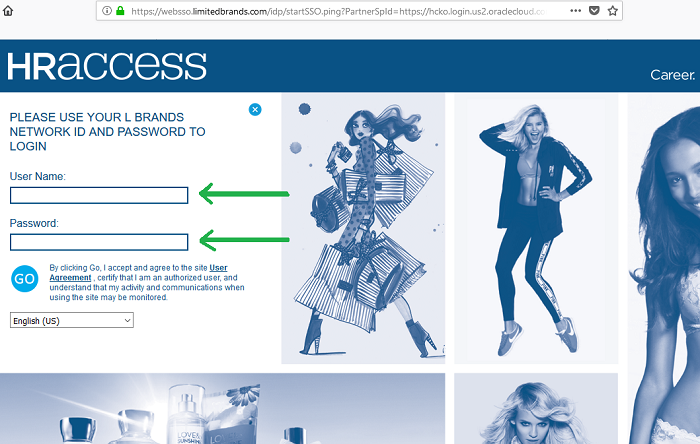 How to Register as a New User.
These days, it is no longer possible to register an account on the ACES ETM platform by yourself. A profile will be registered for you, once you join a Limited Brands company.
Ask your manager for you login details, if you do not have them yet. A L Brands employee account will be deleted 30 days after an employee leves his/her job.
How to Contact Limited Brands' HR Department.
If you have a problem with your password, then call at 1-877-415-7911.
The Limited Brands Human Resources phone numbers are:
Limited Brands HR USA: 1-866-473-4728
Limited Brands HR Canada: 1-855-770-870
Limited Brands HR Far East: +852-2734-4000
Limited Brands HR UK: +44(0)207-557-6670
You can contact the L Brands Headquarters on this mail address:
L Brands, Inc. World Headquarters
Three Limited Parkway
Columbus, OH 43230
USA
The Limited Brands Corporate Office phone number is 1-614-415-7000.
Please share your experiences with the Limited Brands Associate ACES ETM website, below.
How do you rate your experience with this company?